Aquatic Therapy Benefits Clients with
a Wide Variety of Physical Therapy Needs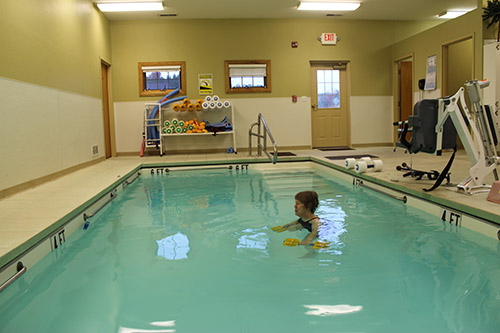 Elkins Physical Therapy and Sports Injury Clinic offers aquatic therapy to patients with a wide variety of injuries and illnesses. Aquatic therapy can be used as a short term and long term treatment option depending on the specific situation of each client. Many clients with chronic illnesses, chronic pain, or musculoskeletal disorders reap lasting rewards from aquatic therapy. One of the main reasons aquatic therapy is so beneficial is the fact that the buoyancy of the water relieves pressure and pain off the body allowing it to move more freely. This combined with the warm water provide a naturally therapeutic experience. If you would like more information about our aquatic therapy options, give us a call today or fill out our online form to hear back from us. We look forward to hearing from you.
State of the Art Aquatic Therapy Pool in Elkins, WV
Our state of the art pool is 4 feet and 6 feet deep and is a comfortable 92 degrees Fahrenheit. We have both stairs with supportive railing and a mechanical lift. You do not need to know how to swim to benefit from aquatic therapy. If you have suffered from one of the following issues, aquatic therapy may be perfect for you.
Joint Replacement
Spinal Surgery
Lower Back Pain
Work Related Injuries
Bone, Joint, or Muscle problems
Chronic Pain
Chronic Illness
Arthritis
Fibromyalgia
Neurological Conditions
Stroke
Brain Injuries
Aquatic Therapy Helps Patients Recover in Elkins, West Virginia
Our aquatic therapy pool may be all you need to start moving more freely. Our experienced aquatic therapists are dedicated to helping patients of all ages find the help and support they need to recover from an injury or surgery, decrease their level of pain and discomfort, work toward mobility and rehabilitation goals, and achieve physical and emotional wellbeing. Through aquatic therapy many patients who are not able or not yet ready to exercise on land, find the environment they need to start working toward their individual goals. By using the water, resistance training and exercises can be performed without the pain and discomfort presented traditionally allowing patients to achieve great success who would otherwise not be able to participate in physical therapy. If you would like more information on how aquatic therapy can benefit you or your loved one, be sure to give us a call today.