Aquatic Therapy in Elkins, WV
Elkins Physical Therapy & Sports Injury Clinic
Aquatic Therapy utilizes the natural buoyant qualities of water to minimize the compressive load of weight-bearing exercises on the body. Many individuals whose bodies have been weakened as a result of injury, surgery, disease, and other disabling conditions are able to begin treatment much earlier and with less pain with Aquatic Therapy at the Elkins Physical Therapy & Sports Injury Clinic Therapy Pool.
Ideal Therapy for Surgical Recovery, Stroke, & Joint Replacement
Aquatic Therapy is the ideal therapeutic choice for a wide range of conditions including chronic pain, musculoskeletal disorders, chronic illnesses, recovery from serious lower body fractures, physical weakness, and many other conditions.
Joint Replacement
Spinal Surgery
Lower Back Pain
Work-related Injuries
Bone, Joint, and Muscle Conditions
Chronic Pain
Arthritic Conditions
Surgical Recovery
Weight Bearing Difficulties
Chronic Illness
Fibromyalgia
Neurological Conditions
Stroke
Brain Injuries
Aquatic Therapy Reduces Pain, Swelling, and Stress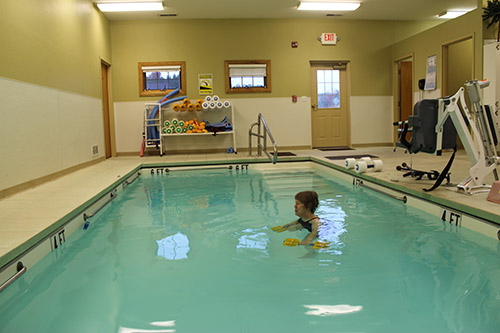 Aquatic Therapy has benefited many of our patients, particularly those most in need of therapy, yet are unable to begin a traditional physical therapy program for various reasons. The body is able to move much more freely in the warm and supportive aquatic environment. Pain, pressure, and stresses on the body are reduced, as well as joint and soft tissue swelling. Additionally, the resistance of the water helps strengthen muscles much faster than in the air. Sessions may be used short-term or long-term as advised by your physician.
Our Aquatic Therapy Pool
The state-of-the-art aquatic therapy pool at Elkins Physical Therapy & Sports Injury Clinic is four feet wide and six feet deep. We keep our pristine pool set at 92 degrees Fahrenheit for your comfort. Stairs with a supportive railing, as well as a mechanical lift, are available. You do not need to know how to swim to benefit from aquatic therapy!
Aquatic therapy is ideal for many of our patients with weight-bearing restrictions, as well as other types of decreased mobility issues. We can carefully place you directly into the water where we are waiting to provide one-on-one assistance as you work through your personalized therapy goals.
Aquatic Therapy – A Perfect Recovery Solution for Patients of All Ages
Aquatic Therapy is the perfect recovery solution for patients of all ages recovering from a wide range of injuries, illnesses, surgeries, and other medical conditions. Our experienced aquatic therapy experts are skilled and highly trained to help our patients get the support necessary to recover with decreased pain and discomfort while working toward recovery. We help you meet your mobility and rehabilitation goals efficiently so you can achieve your best possible physical and emotional health and overall well-being. If you would like to learn more about how aquatic therapy can be a part of your comprehensive physical therapy recovery plan, contact the compassionate staff of Elkins Physical Therapy & Sports Injury Clinic:
Elkins Clinic: 304-636-1548