Vestibular Rehabilitation Therapy Helps Patients Stay Active in Elkins, WV
Elkins Physical Therapy and Sports Injury Clinic specializes in helping patients regain mobility, function, muscle strength, and self confidence through Vestibular Rehabilitation Therapy. If you or a loved one is suffering from vestibular, inner ear, or balance issues, we fully understand the struggles that you or your loved one are facing. Far too many people who struggle with balance related disorders or injuries remain sedentary out of fear of making their situation worse, falling, or causing additional injuries. However, remaining inactive can cause additional issues such a decreased muscle strength, joint and muscle stiffness, depression, and loss of functionality. At Elkins Physical Therapy and Sports Injury Clinic we strive to help patients deal with both the direct affects and indirect effects of dealing with a vestibular disorder. If you would like more information on how we can help you start the journey toward better physical and emotional wellbeing, give us a call today.
Physical Therapy is Proven to Help Patients with Vestibular, Inner Ear, and Balance Issues
At Elkins Physical Therapy and Sports Injury Clinic we strive to provide an individual treatment plan for each and every client suffering from a vestibular disorder. After an evaluation and consultation that will explore your exact needs and goals, our experienced and dedicated staff will put together a customized therapy plan. Many of our patients who are struggling with balance and inner ear issues are happily surprised to discover that many of the exercises are very easy to learn and can start benefiting them immediately. Depending on your exact issue, regaining what you lost or working toward new ways to fully function will be the main goal.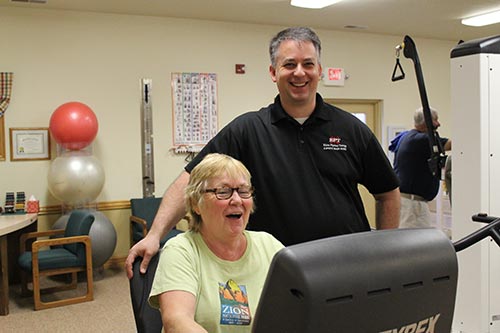 You will soon discover that many benefits will follow such as feeling better both mentally and physically. If you are looking for a caring and compassionate physical therapist to help you through your vestibular recovery, then look no further. We are here for you. For more information, please give our office a call or fill out our online Contact form to hear back from us.