Vestibular Rehabilitation Therapy – Balance, Dizziness & Vertigo
Elkins Physical Therapy & Sports Injury Clinic in Elkins, WV
Vestibular disorders will affect nearly one in three Americans at some point in their lives – with most going undiagnosed and untreated. These issues range from causing periodic inconvenience to serious, life-threatening situations. In any case, these functional disabilities of the inner ear and related structures can have a severe impact on life quality. They tend to restrict the ability to perform daily living tasks and can cause a wide range of physical, cognitive, social, and emotional effects for the sufferer.
Vertigo
Dizziness
Lightheadedness
Nausea
Impaired Postural Control
Visual Disturbance
Imbalance
Effective Treatment for Vestibular Disorders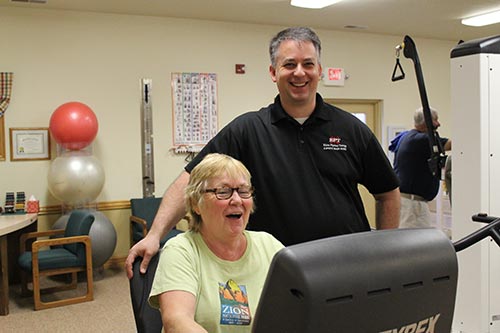 When vestibular disorders are left untreated, more than half of those affected go on to develop serious psychological side effects which may include crippling depression and extreme anxiety as a result of the effects of these extremely unpleasant conditions. The situation can rapidly spiral out of control and lead to complete inability to perform the activities of daily living. Progressive loss of reading skills, concentration, memory, mental stamina, word recall, and other cognitive abilities can be affected by vestibular disorders. It is important to seek effective therapeutic treatment as soon as possible.
Most individuals suffering from vestibular disorders or injuries remain sedentary out of fear of making their situation worse, falling, or causing additional injuries. However, remaining inactive can cause additional issues such as decreased muscle strength, joint and muscle stiffness, depression, and loss of functionality. At Elkins Physical Therapy & Sports Injury Clinic, we understand the causes of these frightening conditions – and how to treat them effectively. Our team has assisted countless patients with overcoming all types of vestibular disorders to get back to living their best lives.
Help for Frequent Falls, Imbalance, and Dizziness
Prompt diagnosis and treatment of vestibular disorders is essential to preservation of life quality. If you or a loved one is suffering from dizziness, imbalance, falls, or any other symptom of a vestibular disorder, we want you to know that help is available right here in Elkins. For over 29 years, the caring and compassionate Vestibular Therapy Team at Elkins Physical Therapy & Sports Injury Clinic has been helping patients regain mobility, function, muscle strength, and self-confidence through our Vestibular Rehabilitation Therapy Program. Each program is customized to meet the needs of each patient. The exercises involved are easy to learn and highly effective. Let us help you regain what you lost and improve your physical function for a better quality of life. Call to get started right away:
Elkins Clinic: 304-636-1548