Chronic Pain Relief Through Physical Therapy in Elkins, WV
Elkins Physical Therapy & Sports Injury Clinic
Chronic pain is pain that lasts for months – or even years. Affecting over 1/3 of the U.S. Population each year, chronic pain is a serious and often ignored part of our current public health crisis. Many point to the opiate epidemic, yet overlook what could be an important cause: widespread extreme, intractable chronic pain. Although surgical intervention, medications, and other methods of treatment may play an important part in the therapeutic treatment of chronic pain, it is important to ensure that the physical issues related to chronic pain are properly addressed to avoid further complications.
Pain Management, Massage, and Exercise & Aquatics Programs
At Elkins Physical Therapy & Sports Injury Clinic, we have been providing effective pain relief for over 29 years. Our physical therapists address the root cause of pain that many of our patients face. We can help. Our chronic pain therapy programs are customized to address the specific needs of each patient.
Strengthening & Flexibility
Manual Therapy
Joint & Bone Manipulation
Aquatics & Resistance Programs
Postural Awareness
Exercise Programs
Massage
Endurance Training
Joint Stability
Body Mechanics Instruction
Pain Management Education
Physical Therapy for Long-term Chronic Pain Management
Muscle Spasms, Arthritis, Migraines, Back Pain & Fibromyalgia
Reduction and elimination of chronic pain changes lives. When searching for therapeutic methods to treat chronic pain, be sure to include physical therapy in your treatment repertoire for efficient and lasting relief. Although moving may be the last thing you feel like doing when in pain, an extensive body of research indicates that physical therapy tends to be the best and most effective long-term solution for many types of chronic pain.
Muscle Spasms
Fibromyalgia
Post-surgical Pain
Arthritis
Back, Neck & Shoulder Pain
Migraine Headaches
Neuropathic Pain
-and more
Chronic pain itself is classified as a chronic illness. It can cause depression, isolation, and in some extreme cases, suicide. At Elkins Physical Therapy & Sports Injury Clinic, we understand the severity of the effects chronic pain causes for our patients and society. Our team stands ready to assist as part of your comprehensive pain management team.
Chronic Pain Reduction for Illness, Injury & Disease
Whether you are dealing with migraines, lower back pain, or pain from a chronic illness, injury, or a disease process, physical therapy can help. Organized exercises and proven therapeutic strategies are developed based on your specific condition to help increase mobility, decrease pain and stiffness, and lead to a better life free of chronic pain.
Effective Drug-free Pain Relief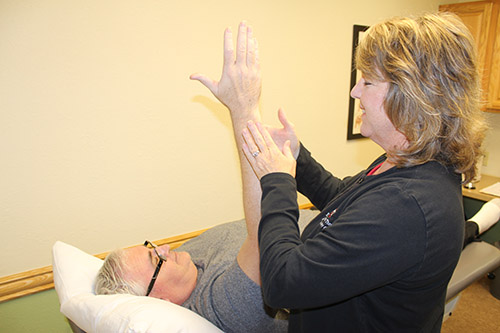 Our primary concern is pain reduction. We will also help you build muscle strength and flexibility. In many cases, pain relief, muscle strength, and improved physical functioning go hand-in-hand. Although there is no doubt that taking the first steps toward eliminating chronic pain can create various degrees of discomfort or "good" pain as the body learns to move again or find alternate ways of completing physical tasks, we work hard to make the transition as easy as possible for you.
Working toward achieving a better and more functional life through effective drug-free pain relief is a worthwhile goal for all of our patients. We look forward to helping you as you take the steps necessary to achieve your goal of long-term chronic pain relief.
We Make Relief From Chronic Pain a Reality
Break free from the isolation and pain. We are here to answer any questions you may have, including understanding the link between how the brain and nervous system interact to contribute to chronic pain (and its reduction). Remember: the less you move, the more pain you will have. Keeping active throughout life is critically important –and we are here to help make it easier for you. Contact the caring and compassionate staff of Elkins Physical Therapy & Sports Injury Clinic today. We make relief from chronic pain a reality!
Elkins Clinic: 304-636-1548