Wellness & Exercise Programs
Elkins Physical Therapy & Sports Injury Clinic in Elkins, WV
Have you been thinking about making a commitment to improve your health? Has your weight crept up beyond your comfort zone? Do you want to get in great physical shape? Has your physical therapy ended, but you want to keep reaching new goals? Whether you are new to the world of fitness or want to maximize your health, Elkins Physical Therapy & Sports Injury Clinic is the ideal choice to help you meet all your fitness goals. From weight loss and increasing muscle mass/strength/flexibility to enhanced performance in your sport, our team will help you achieve your goals. Let us know how we can help.
Affordable Exercise Programs for Beginners to Advanced Athletes
Elkins Physical Therapy & Sports Injury Clinic offers affordable exercise and wellness programs for individuals, families, and people of all ages and fitness levels from beginners to advanced/professional level athletes. You do not need a prescription to join our wellness programs. If you have been thinking about joining a gym or hiring a personal trainer, our facility may be a better option. Our physical therapists are skilled and highly experienced medical professionals – experts in body mechanics, strength training, flexibility, and maximizing physical health without injury.
Fitness Education, Personalized Exercise Programs, Event Training, and More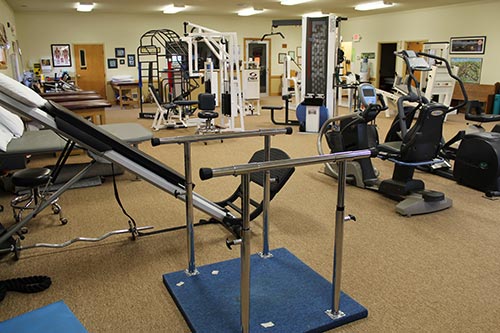 We are able to provide semi-supervised guidance for a wide range of wellness programs. This is particularly important if you are beginning a new exercise program or reaching for a new, advanced fitness goal at a higher level. Our team is able to assist you in several ways.
Exercise Education – We can teach you how to exercise. While exercising may seem intuitive, there are many wrong ways to perform each specific movement. Poor form and execution while exercising result in serious injuries and pain for millions every day. Let us help you avoid that.
Exercise Efficiency – Based on your personal fitness goals, our professional physical therapists will help you select the best exercises to reach your goals as fast as possible. Whether strength, weight loss, mass increase, or enhanced performance is your goal, we will help you get there as efficiently as possible. With no wasted time, you can achieve results much faster.
Personalized Programs – We recognize that every individual's requirements and abilities are unique. When it comes to exercise, old injuries, fears, goals, and many other factors must be taken into consideration for maximum effectiveness and a successful program. A wellness program designed with your needs in mind can make all the difference.
Setting Goals & Motivation – Instant gratification would be nice, but it just is not practical. We will help ensure that you are able to achieve your goals as efficiently as possible while assisting with your understanding of how to set reasonable goals and timeframes. Our team is enthusiastic about our wellness crew! When you come in, you become part of the Elkins Physical Therapy & Sports Injury Clinic family. Sincere motivation is part of our culture and we are here to encourage you and help keep you from backsliding.
Event Training – If you have a specific competition coming up, we can provide assistance with developing a training program that will help maximize your performance. Whether training for a fitness test, marathon, game, or specific strength, weight, or endurance goal, we can help you get there.
We have stocked our 1,800 square foot Elkins facility with the best therapeutic exercise equipment for you. From a variety of cardio equipment and Cybex upper and lower body machines to our easily accessible heated therapy pool, everything you need to improve your physical well-being is right here at the Railyard at Elkins Physical Therapy & Sports Injury Clinic.
Our team is fully committed to helping you achieve your best physical performance as part of a healthy lifestyle. Let our friendly staff know how we can help you. We will begin helping you prepare your plan right away. Call Elkins Physical Therapy & Sports Injury Clinic today to get started:
Elkins Clinic: 304-636-1548