Sports Injury Therapy in Elkins, WV
Elkins Physical Therapy & Sports Injury Clinic
The skilled physical therapists at the Elkins Physical Therapy & Sports Injury Clinic in Elkins, WV is dedicated to helping athletes of all ages and abilities achieve optimal rehabilitation after sports-related injuries, as well as maximizing performance and helping our athletes avoid preventable injuries. Our approach to physical therapy and sports medicine is simple, but highly effective.
Sports Injury Recovery: Pain, Function, Flexibility, Strength, and Performance
Our comprehensive sports injury recovery program is tailored to address all aspects of the athlete's performance, including:
Pain Reduction
Restoration of Physical Function
Strength
Flexibility
Performance Optimization
Injury Prevention Education
Safe, Effective Injury Rehabilitation in Elkins, WV
Whether you are a weekend warrior, amateur or professional athlete, or performing artist, the Elkins Physical Therapy & Sports Injury Clinic team will help you get back to the activities you love safely, effectively, and efficiently. Our Sports Medicine specialists have been assisting athletes in Elkins and the surrounding areas get back on the field and on the stage for over 29 years.
The application of evidence-based techniques and sports-exclusive rehabilitation programs has made us the preferred choice of athletes, coaches, sports directors, and physicians throughout West Virginia. When your recovery and performance are on the line, trust the experts at Elkins Physical Therapy & Sports Injury Clinic to provide the supervised personal recovery plan you need for solid athletic success.
ACL Tear, Patellofemoral Syndrome, Sprains, Strains, Shin Splints, & More
We treat a wide range of sports-related injuries, including:
ACL Tear
Patellofemoral Syndrome
Concussion
Ligament Sprains
Hip Flexor Strain
Ankle Sprain
Groin Pull
Shin Splints
Hamstring Strain
Tennis Elbow
Shoulder Injury
Get Back in the Game – Personalized Sports Injury Diagnosis & Treatment
Every injury is unique – and so is every athlete. At Elkins Physical Therapy & Sports Injury Clinic, we work closely with our athletes to diagnose and treat a wide range of sports-related injuries in the manner best suited to each patient's age, health, level of activity, injury, and goals. Our patients always come first. A comprehensive, personalized approach that is natural, therapeutic, and sustainable will be developed to build a foundation of ongoing recovery. We help you get back in the game!
Proud to Be Your Trusted Professional Athletic Injury Recovery Team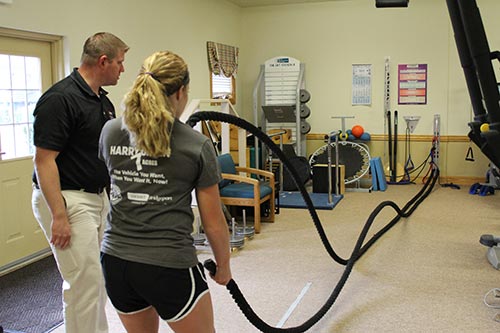 Athletes who come to us for assistance with the injury recovery process are sometimes surprised at the high level of care provided. Our team is completely dedicated to meeting the needs of each of our patients and we understand the unique needs of those involved in the world of athletics. From physical and emotional well-being to ongoing injury prevention education, the Elkins Physical Therapy & Sports Injury Clinic is your skilled professional medical partner as you work hard to achieve your athletic goals. We make sure our athletes have all the tools required to remain injury-free and successful throughout their careers.
It is important to remember that sports injuries can and do happen to even the most seasoned athlete; however, an educated athlete can eliminate unnecessary risks associated with their sport. If you are looking for a reliable and trusted team dedicated to helping athletes recover and excel in their sport, give us a call today:
Elkins Clinic: 304-636-1548