Work Conditioning Therapy in Elkins, WV
Elkins Physical Therapy & Sports Injury Clinic
Work Conditioning Therapy is a physical therapy treatment option used to help patients gain strength, flexibility, and stamina. Patients also learn safer work techniques specific to their employment requirements. The goal of Work Conditioning Therapy is to assist patients to return to work with maximum function. We offer effective physical therapeutic techniques to assist workers who have suffered a wide range of work-related injuries, including:
Musculoskeletal Injuries
Heavy Lifting Injuries
Slips, Trips, & Falls
Repetitive Motion Injuries
Machinery & Work Equipment Injuries
Work-related Motor Vehicle Accidents
Helping Workers Achieve Functionality & Employment Goals
Returning to Work Safely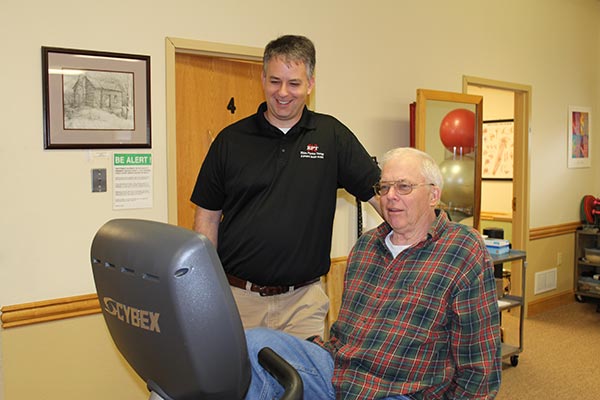 We assist workers who have been injured on the job, undergone surgery, or experienced similar debilitating situations, and who have been unable to regain adequate physical capacity and functionality meet their work-related goals. Our intensive Work Conditioning Therapy program is designed to help injured workers safely return to their pre-injury job. Limited mobility tends to cause an immense amount of frustration and can affect all areas of life. At Elkins Physical Therapy & Sports Injury Clinic, we understand. For over 29 years, we have created customized programs designed to address the unique needs of each of our injured patients. We provide access to the most advanced and proven effective physical therapy resources available to help you get back to work and life as soon as possible. Whether your work takes you to the office, the assembly line, or the great outdoors, we will work closely with you to get you back to optimal functionality for the demands of your employment. Our team is fully dedicated to your successful recovery.
Strength
Range of Motion
Cardiovascular Endurance
Physical Functionality
Behavioral Functionality
Vocational Functionality
Joint Mobility
Endurance
Motor Control
Functional Ability
Avoid Work-related Injuries With Work Conditioning Therapy
Elkins Physical Therapy & Sports Injury Clinic's Work Conditioning Therapy patients are able to return to work more equipped to avoid injury in the future by addressing the key components of functionality required for their specific vocation, which may include specific productivity and safety concerns. If you have been injured on the job and are looking for a qualified physical therapy team who can help you safely return to your pre-injury employment position, contact Elkins Physical Therapy & Sports Injury Clinic today.
Do not delay the process of regaining your work-related functionality. Call to begin your recovery program today:
Elkins Clinic: 304-636-1548
Functional Capacity Evaluations for Disability
& Work Function in Elkins, WV
Elkins Physical Therapy & Sports Injury Clinic offers industry standard Functional Capacity Evaluations (FCEs). FCEs are valuable reports used to determine the level at which an individual is able to safely and effectively function. As an objective evaluation, the FCE is useful for employers, doctors, vocational consultants, case managers, attorneys, insurance companies, and other parties interested in a professional medical opinion regarding an individual's physical capabilities. This comprehensive evaluation is able to provide a complete analysis of strength, work level capacity, endurance, positional tolerance, and other key factors related to an individual's ability to perform work. Claims for short and long term disability, work capacity and ability, and other determinations that require the application of appropriate professional medical standards-based evaluation are ideally processed with the FCE.
Post-offer Employment Testing – Elkins, WV
If you are an employer in Elkins, WV interested in taking active measures to minimize the risk of injuries at your business, consider Post-offer Employment Testing (POET) for all of your employees. This objective testing procedure is able to effectively determine an individual's physical ability to perform the essential functions of a specific job or series of tasks safely. By determining fitness for duty, injuries can be significantly reduced, potentially saving you and your company from the financial devastation that can result from employee injuries on the job.
Are My Employees Qualified to Perform Safely?
POET is extremely useful because, as we all know, appearances can be deceiving. An apparently healthy individual may pose a serious risk to himself and/or others as a result of an otherwise undetectable condition, skill deficiency, etc. In contrast, an individual who may appear incapable of performing the duties of the job may, in fact, become one of your most valued and productive employees. Reliance on physical appearance, stereotypes of age, gender, medical condition, etc. are inaccurate and unfair. In fact, in many cases, they may be illegal. Uniform POET assesses the actual physical abilities of all potential employees according to your actual, valid, job-related necessities to help ensure you are hiring qualified candidates who can complete job-related tasks safely – without exposing yourself to costly discrimination lawsuits.
It is important to remember that in order to comply with Federal law, many specific laws and regulations must be adhered to when administering POET as part of your decision to hire employees. Before requesting or requiring POET as a condition of employment, ensure that you have fully read and understand all aspects of the law, including, but not limited to:
Uniform Guidelines of Employee Selection Procedures
Title VII – Civil Rights Act of 1964
Age Discrimination in Employment Act (1967)
Americans with Disabilities Act – (1990)
Nothing on this page is to be construed as legal advice. Consult an attorney if you require legal counsel regarding any aspect of local, state, and/or federal labor or employment laws or any related concerns.